Jeep launches the Altitude edition for the Cherokee, Compass and Patriot
by David Létourneau May 4, 2012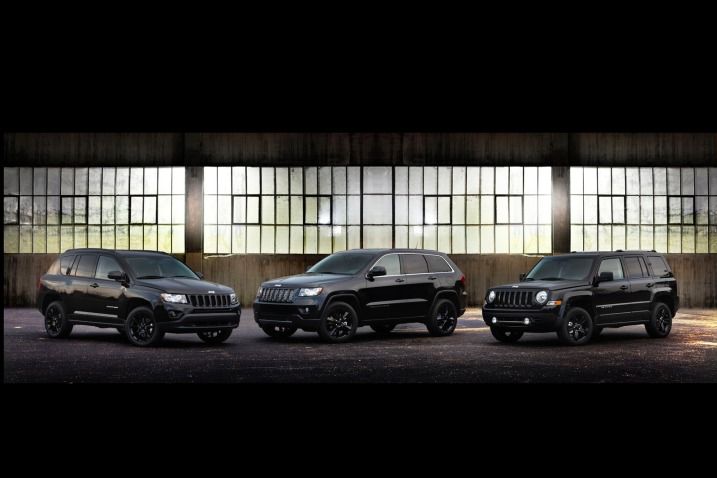 The contest launched by Jeep to find a name for the new edition of the Grand Cherokee has attracted more than 100,000 U.S. Internet users. The name "Altitude" was the grand winner.
First introduced on the Jeep Grand Cherokee, the "Altitude" edition will also be available on the Compass and Patriot models, all as a limited edition. The Grand Cherokee prototype presented in Houston sported a dark body. It includes a black grille adorned with a chrome grid and 20-inch black aluminum wheels. Inside, one finds leather covering the heated seats, steering wheel and shift knob. In addition, the Grand Cherokee is equipped with rearview camera, parking assistance, keyless ignition system and hands-free communication. This model's retail price is $ 44 695.
The Jeep Compass Altitude also has this dark side; black grille, black headlamp, black roof rails and black step pads. The smaller 18-inch wheels are also of black aluminum. For this model, Freedom Drive I and II transmissions are available. The Compass is equipped with stability control and hill start assist. The manufacturer's suggested price is $ 22 790 for the 4X2 model and $ 25 090 for the four-wheel drive model.
On the Jeep Patriot Altitude, we notice more chrome on the step pads and on the fascia. The roof rails are made of polished steel and the 17-inch wheels are made of black aluminum. The Patriot has virtually the same characteristics as the Compass. It is priced at $ 22 090 for the 4X2 model and $ 24 390 for the 4X4.
The Jeep Altitude series is expected to arrive soon in dealerships. Bookings are already starting. Be among the first to book your own at your LaSalle Jeep dealer.
http://img0.sm360.ca/ir/w600h450/images/news/beaucage/369/jeep_altitude_avant.jpg http://img0.sm360.ca/images/news/beaucage/369/jeep_altitude_avant.jpg
http://img0.sm360.ca/ir/w600h450/images/news/beaucage/369/jeep_altitude_calandre.jpg http://img0.sm360.ca/images/news/beaucage/369/jeep_altitude_calandre.jpg
http://img0.sm360.ca/ir/w600h450/images/news/beaucage/369/jeep_altitude_int.jpg http://img0.sm360.ca/images/news/beaucage/369/jeep_altitude_int.jpg
http://img1.sm360.ca/ir/w600h450/images/news/beaucage/369/jeep_altitude_sieges.jpg http://img1.sm360.ca/images/news/beaucage/369/jeep_altitude_sieges.jpg
http://img0.sm360.ca/ir/w600h450/images/news/beaucage/369/jeep_altitude_angle_arriere.jpg http://img0.sm360.ca/images/news/beaucage/369/jeep_altitude_angle_arriere.jpg
http://img1.sm360.ca/ir/w600h450/images/news/beaucage/369/jeep_altitude_conducteur.jpg http://img1.sm360.ca/images/news/beaucage/369/jeep_altitude_conducteur.jpg